The team at B Squared works together to provide a host of services that help businesses big and small avoid predicaments and keep things running smoothly. Our services include:
Tax Planning and Preparation
Tax planning doesn't start when it's time to prepare your returns. Not if you want to get real value out of it. While anyone can crunch numbers and fill out forms, Bill has developed a 5-Step, proven approach to filing taxes that looks to the past, future and present. He believes clients deserve real strategic guidance to help prepare them for the tax implications of decisions they make throughout the year. We are always ready with helpful advice and insight that can lessen your tax liability – while maximizing the strength of your bottom line.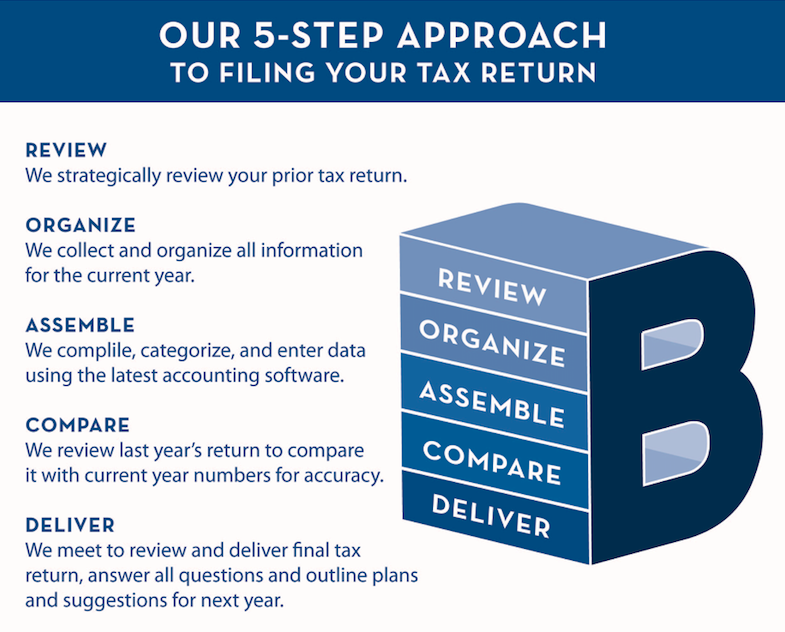 Bookkeeping
For clients who are ready to outsource their accounting and bookkeeping functions, we offer those services, tailor-made to fit your business model and schedule.
For those clients who wish to do their own books but need a little help getting started, we have QuickBooks® specialists on our team who can assist you with setup, installation and ongoing service support. We are available by phone or can meet you at your location – whatever works best for you. We also offer customized, individual or small-group training.
Business Formation
Establishing the proper form of your business is one of the first, and most crucial, things business owners do. It's important to have a qualified professional help you get it right – whether you're filing as an S-Corporation, an LLC . . . or just in need of a federal tax identification number. Bill has helped many clients get their business formation right, and clients are pleasantly surprised to find the cost is more competitive than some of the services they see advertised online and on television. Let B Squared help you get your business established on the right foot, and in the right form.
Payroll Services
Few things are more important than payroll – from the proper checks and the necessary reports to compliance with IRS requirements that can make the difference between smooth operations and a serious crisis. B Squared Accounting Solutions makes sure that everything functions as it should. We not only provide all the necessary payroll checks and related reports, we electronically transmit your required deposits directly to the IRS – in time, and in the proper form as required by law. Leave payroll to us, and rest assured that we're keeping the process smooth and legal while you focus on running your business.